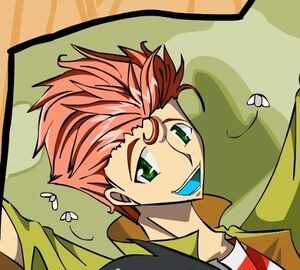 Edwin "Ed" Horace Monoboroster is a minor character in Powerpuff Girls Doujinshi.
Vital statistics
Edit
He was first seen when doing a soccer game along with Edd, Eddy and Buttercup. Later he was seen in the cafetaria along with Billy collecting cookie boxes and make a giant mountain of it and slide down from it.
Ed is the strong, dimwitted workhorse of the group and one of the main protagonists of the series. His skin is yellow, unlike the other characters and he is known to laugh a lot and is happy most of the time. Ed has amazing physical strength which is humorously worked into many of the show's plots. His mind is a subculture grab bag full of comics and monster movies, which he often confuses with reality and also having the habit of shouting random remarks which have almost nothing to do with the current conversations.
Ad blocker interference detected!
Wikia is a free-to-use site that makes money from advertising. We have a modified experience for viewers using ad blockers

Wikia is not accessible if you've made further modifications. Remove the custom ad blocker rule(s) and the page will load as expected.