The U.S.Marine Corps is the Marine Corps of the United States Military.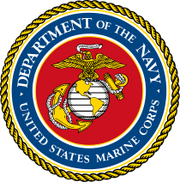 Powerpuff Girls Doujinshi
Edit
It is unknown that the Marines along with the Other military branches & the Police are also involved in the Incident in the Megaville Art Center in PPGD & Battle of Megaville in Grim Tales.
The United States Marine Corps (USMC) is a branch of the United States Armed Forces responsible for providing power projection from the sea,[7] using the mobility of the U.S. Navy to rapidly deliver combined-arms task forces. The U.S. Marine Corps is one of the four branches in the U.S. Department of Defense as a member of the Joint Chiefs of Staff. It is one of the seven uniformed services of the United States.
Ad blocker interference detected!
Wikia is a free-to-use site that makes money from advertising. We have a modified experience for viewers using ad blockers

Wikia is not accessible if you've made further modifications. Remove the custom ad blocker rule(s) and the page will load as expected.